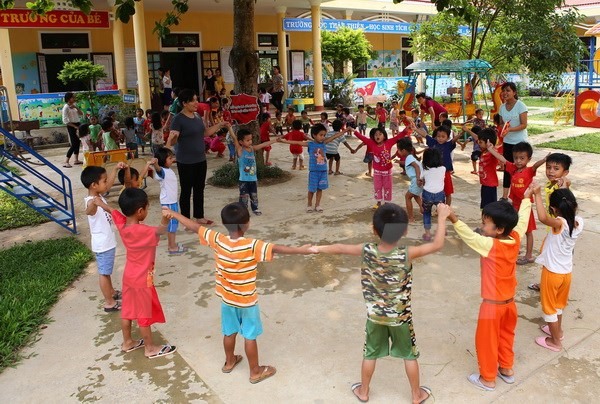 Children do morning exercises at a pre-school. — VNA/VNS Photo
Viet Nam News

HÀ NỘI — The Government has approved a project to ensure proper nutrition and improve the physical fitness of students.

The project aims to promote students' health and prevent cancer, cardiovascular diseases, diabetes, lung diseases and bronchial asthma.

It targets that all educational and vocational institutions nationwide will fully implement the regulations on physical activity for students via both key and extracurricular activities. 

Each student will be expected to have at least one hour of physical exercise every day as recommended by the World Health Organisation.

The project will improve the understanding of proper nutrition and appropriate physical activity for education managers, teachers, students and parents, and educate them on its benefits.

It also plans to educate students about the dangers of tobacco. At least 80 per cent of high school students and all university students will be instructed how to prevent the harmful effects of alcohol.

All employees working in school canteens will also be trained about proper nutrition and food hygiene and safety.

All preschools, secondary and high schools will be required to monitor and evaluate the nutritional status of their students. 

To achieve the targets, the project offers some key solutions, including completing policies and mechanisms on school nutrition and physical activity at schools; strengthening facilities and equipment to ensure nutrition, physical education and school sports activities; and strengthening the management of school nutrition and physical education. — VNS