Cairo – Gololy
Lebanese singer Nancy Ajram expressed her deep resentment at the neglect she suffered at the airport.
The Lebanese artist published a video of her carrying her third child, "Leah", while standing in a long queue amidst heavy traffic at the airport.
Nancy commented on the video, saying: "Today I am not an artist. I am a Lebanese citizen. My daughter is 5 months old. My mother is crying for one hour from the time of dawn at my airport and the women of Katar were around me."
She added, on her account on Twitter: "Is Halchi allowed? Is it acceptable to ignore our right as citizens of our country's airport? Is it permissible for us to be deprived of the most basic human rights? "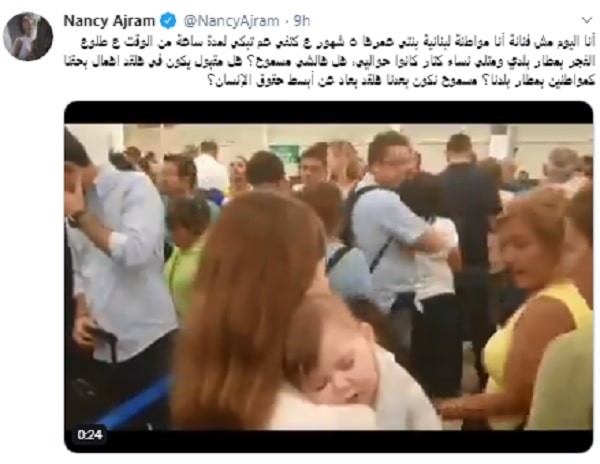 She continued: "In all countries of the world to be pregnant women and the baby exceptions … except for us .. can because our thinkers ??? Oh Habayeb my heart is one of the most basic rights of women Hida your duty towards every woman .. We did not have enough of garbage at the airport? And negligence? ".
She went on: "What do you have born or what you feel the birth of people? We are satisfied with all our crises in all the situations that we have been subjected to, but to our children and children. # Defective. "
She concluded by saying: "Haida Lebanon, which is written in history books? Haida Lebanon Who can encourage tourists to visit? And our young children became pure and understanding of the defects that we have inflicted upon you, and you have not been satisfied! Are you silent and silent? Where are our parents? # Defective. "