Cairo – Doaa Al Arabi
The Egyptian artist Mohamed Hamaki revived the wedding of Ahmed El Masry, the son of the artist Majid El Masry and the electronics engineer Hind Haitham Sadiq, on the beach of the new city of El Alamein inside the Sea Coud amidst the dancing stars of art, media and celebrities.
Mohamed Hamaki opened his paragraph with the song "Nafshi Abqaye Sinba" after which he was keen on congratulating the bride and his friend Majed Al Masri, the father of the groom, in addition to the musician Hassan Ash Ash. Then the Stars of the Theater of Egypt and Hamdi Bader and Shaima Saif accompanied by Majed Al Masri stepped on stage to share the bride and Hamaki singing. And successive dance joints.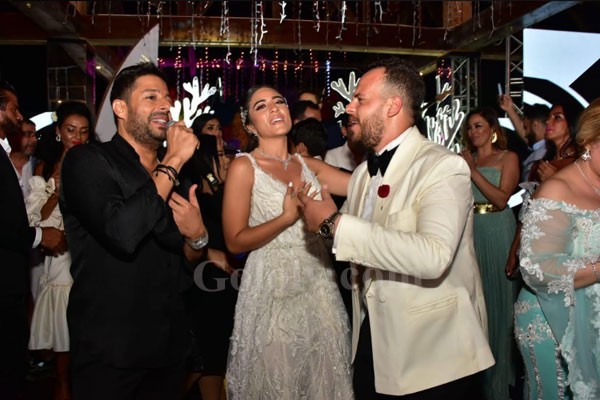 During the ceremony Hamaki presented songs: Yazlzal, Gera er, Ahli Haja Vicky, Yara Star, Wadi El Bali, and one by one.
The ceremony was attended by art stars and celebrities Amir Karara, media Khaled Salah and his wife Shrihan Abul Hassan, Akram Hosni, producer Walid Mansoor and Dr. Ashraf Zaki, Rogina, director Mohamed Sami, Bossi, Mostafa Khater, Os Os, Mohamed Anwar, producer Mohammed Fawzi and his wife Wafa Amer.
The ceremony was attended by Captain Mohammed Zidan and his wife, the media Boussi Chaliban, Mina Ash Ash, the mother of the groom, Issam El-Imam, Hussam Dagher, Ahmed Atef, Ahmed Ibrahim, Dalia El-Beheiry, Zoughan and Shaima Seif, grandfather of the groom musician Hassan Ash, producer Ahmed Ayoub, Rain .. In addition to a large number of friends of the bride.
Hamaki was keen to present the song "Umm al-Dunya" and wished the Egyptian team to beat South Africa in today's game amid more excitement.
The ceremony was organized by Walid Mansour and the decorations of Ahmed Al-Katatni and distinguished by the atmosphere of sophistication and luxury and extended until the early hours of the next morning.