Cairo – Howayda Abou Samak
Like a lot of artists, the son of Majid Al Masri just lately entered the creative group.
Majed al-Masri's youngest son, Adam al-Masri, joined the crew of the collection «Bahar», starring his father, the artist Majed al-Masri.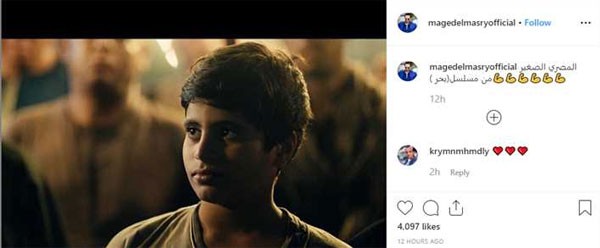 The artist Majid al-Masri revealed an image of his son from the collection, and wrote commenting: «Little Egyptian from the collection Bahr».
The collection "Bahar" starring Majed Al Masri, Mohamed Diab, Tharaa Jbeil, Mirna Noureddine, younger artist Kouki, Fawzia Mohamed, Mohamed Ali Rizk, Abdel Rahman Abu Zahra, Mahmoud Juma, Sanaa Shafea, Hanan Suleiman, Salwa Othman, Ashraf Zaki, Norhan and from him Arafa.
Majed Al-Masri married his singer Mona Esh, and gave beginning to his son Ahmed Al-Masri and his daughter Mahitab.
Majed separated years in the past from Mona Esh after his technical success collectively, after which married to Rania Abou El Nasr, and gave beginning to a boy and a lady.