غير مصنف
Permanent makeup, like microblading, is growing in popularity in Kearney, says owner of Symmetry Permanent Cosmetics | Business
KEARNEY — If waking up looking fresh and poised is how you want to greet the day, permanent makeup may be just what you need.
Brittany Lerbakken owns Symmetry Permanent Cosmetics, a body art facility, inside 3 Strands Salon at 220 W. 42nd St., where she applies permanent makeup to the eyes, brows and lips. Certified through SofTap, she offers microblading or powder eyebrows and blended lip procedures.
"It's definitely growing in popularity. People like to wake up and have the convenience of their brows or eyeliner being on," she said. "For some women not having brows, that's a big confidence booster. I've had clients come in and say they've never let their boyfriends see them without their brows."
A Texas native, Lerbakken moved to Kearney with her mother nine years ago. She is licensed through the state of Nebraska as a permanent color technician working from a body art facility.
A form of cosmetic tattooing that enhances the appearance of eyebrows, microblading mimics real hair where pigment is scratched into the skin in fine, short strokes resembling hair, using a sterile one-time use hand tool with a blade formed of tiny needles. The method has been around for years, Lerbakken said, but it's becoming more popular in the United States and in central Nebraska.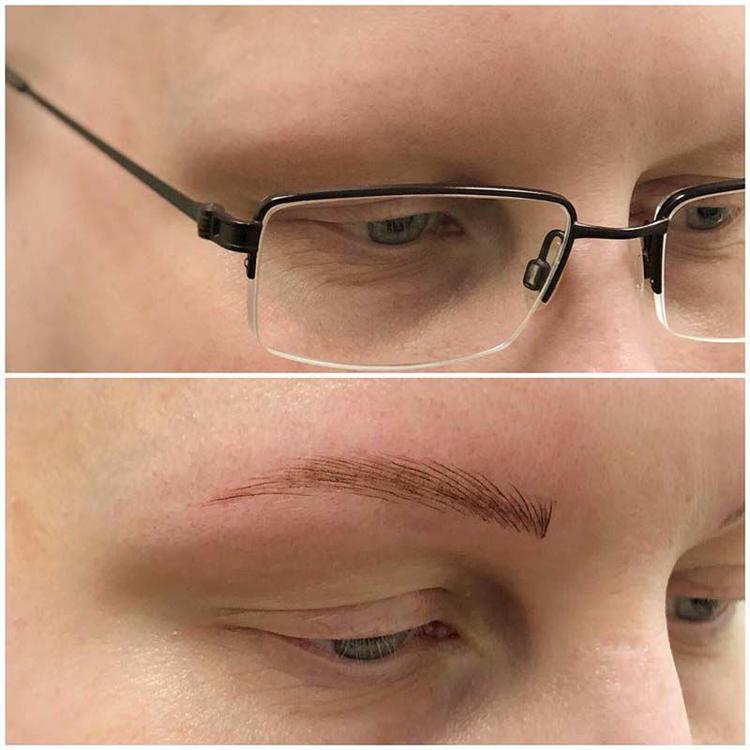 She's done more than 100 eyebrows and more than 75 eyeliner procedures in the year she's had her business.
St. Paul fourth-grade teacher Allyson Wilson, 29, first had her eyebrows microbladed in September. In high school she had thick eyebrows, but at the time thin brows were "in," so she plucked them.
Over time her eyebrows never filled back in.
"I just noticed lately in pictures that it looked like I didn't have eyebrows," she said. "I just wanted to look like I had eyebrows."
Wilson researched microblading and found Lerbakken online. "I was nervous," Wilson said.
But Lerbakken talked her through every step of the process.
Lerbakken begins the microblading procedure first by temporarily mapping out the eyebrows with a template that allows clients to see how their brows will look with their face shape. Pigment color is chosen based on client's skin tone.
"Every brow is done custom, I don't use a stencil," said Lerbakken, who has had her own eyebrows, eyeliner and lips enhanced.
A numbing agent is applied to the brow area. Lerbakken then dips the microblade into the pigment color and hand draws each hair stroke on to the skin. Powder also can be used on the eyebrows rather than mimicking hair strokes. Powdered brows, Lerbakken said, provide a soft, natural, finished look. "I leave as much of your natural brow hair as possible. My personal style is to use your natural shape as a guide and enhance it."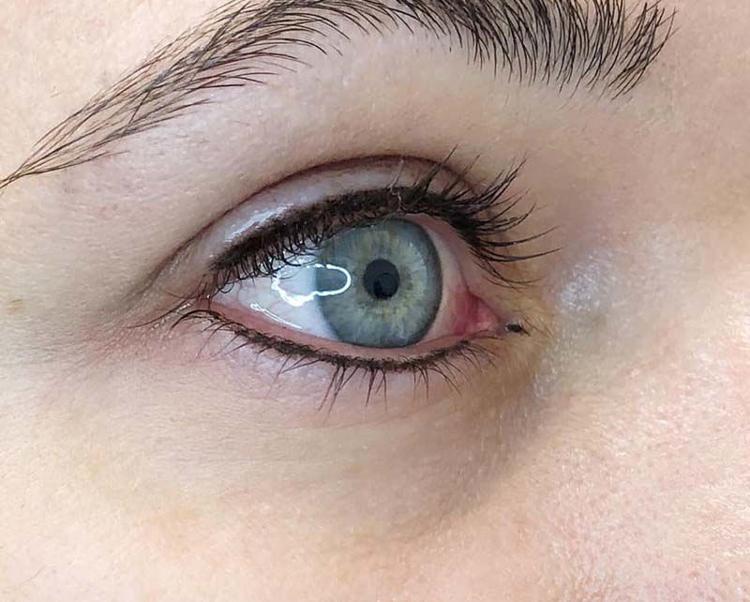 Eyes also may be enhanced with permanent eyeliner pigment that is tapped into a client's skin. Lip tinting, where pigment is added to the lips, giving them more definition, also is popular.
"It's not lipstick, but it gives your lips a natural tint," she said.
Most of Lerbakken's clients chose the procedures to enhance their beauty. She also has several clients who have their eyebrows constructed because of medical issues they have that cause hair loss.
Clients may see some redness after a microblading procedure, and puffiness, tenderness and redness from the eye liner and lip enhancements. Because of the irritants clients must avoid wearing mascara and eye shadow for a week.
"The initial healing period is around seven-10 days, and a complete healing is over the course of six weeks," she said.
Each procedure takes two hours, varies from $250 to $475 and lasts 12-24 months depending on the individual. Clients also may return for color boost to redefine the intensity of their coloring.
For Wilson, her microblading was money well spent.
"They are amazing," she said of her new brows. "When I have pictures I have eyebrows again," she said.