غير مصنف
OUTLOOK 2019: Volunteers pitch in to keep schools running smoothly, helping teachers, feeding the masses and pushing those candy bar sales | Local News
[ad_1]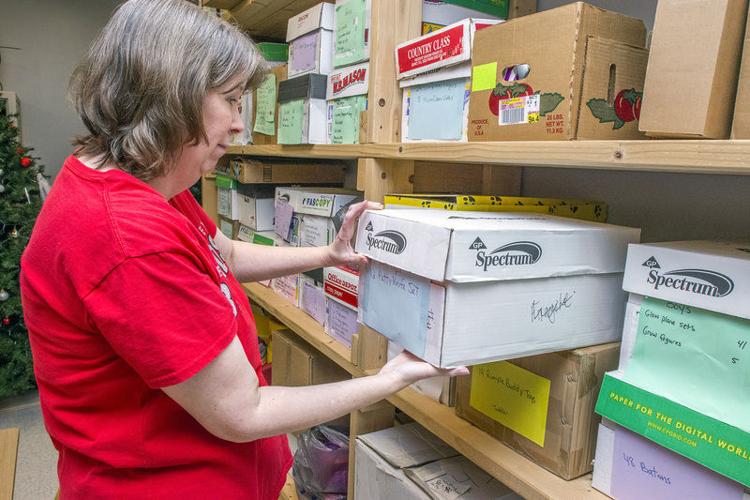 SHARON – Long retired as a teacher, Mitzi Fabich still knows how to work a classroom.
"Let me tie your shoes while you look at your writing,'' Fabich tells a second-grader at West Hill Elementary School.
She typically is called on to help with a specific piece of education. On this day, she helps students learn cursive writing.
Fabich turns 90 this summer, but she still turns up once a week at West Hill to share her experience and to work with another generation of students.
She is among a small army of people who sacrifice their own time to supplement the efforts of teachers at schools in Mercer County.
Fabich's own teaching career began in an unusual way. She grew up in Farrell as Mitzi Radnsevich, but both her parents died from illnesses before she turned 19.
"But at least my mom got to see me graduate from Farrell High School,'' Fabich said.
However, their deaths deprived her of an opportunity to attend college.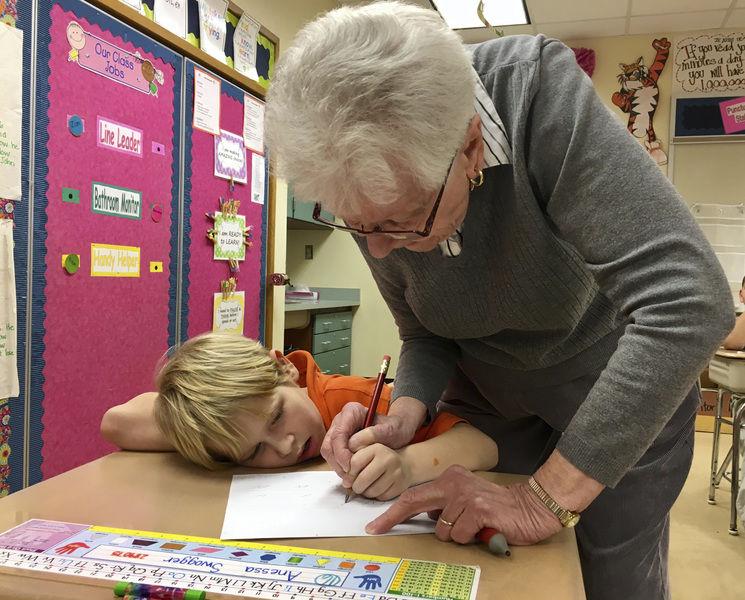 Friends and family helped her along until she married George Fabich, an electrician at the former Sharon Steel Corp. plant in Farrell. She settled into domestic life and the couple had five children. She was satisfied with that life.
Something changed in the mid-1960s, when Fabich hit 40. She decided to pursue her dream of becoming a teacher and enrolled at Penn State Shenango in Sharon. After completing the Penn State coursework, she attended Slippery Rock University and secured her teaching certificate.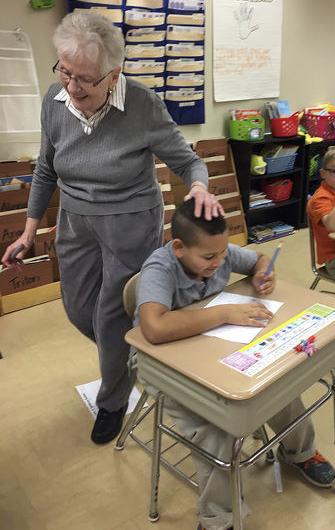 "I'm someone who likes to keep busy,'' she said. "I wanted to learn. I wanted to do.''
Sharon City School District hired Fabich as an elementary school teacher and she went on to teach at Hadley, Case Avenue and West Hill elementary schools. After 17 years with the district, she retired as a full-time teacher.
Yet, she really didn't want to leave the classroom. So Fabich went back to the district as a substitute elementary teacher. After nearly 18 years as a substitute, she retired a second time.
But the teaching life kept its grip on her. So, she has volunteered at the school for about the past decade to offer her help in classrooms. And other teachers still seek her out for advice.
"Students have to know what you expect of them,'' Fabich said. "Kids are eager to learn, and it's up to us to show them and direct them.''
Students of today are more likely to face stressful family issues than when Fabich began her career. There are more single parents raising children now.
"You see more families having to deal with drug use by a parent or one of their other children,'' Fabich said. "And there are financial pressures. The kids feel their parents' troubles – it's something you can't hide from them.''
As a volunteer, she still gets thrilled when a student grasps a lesson.
"It's a great day today when you see them get excited about learning cursive,'' Fabich said."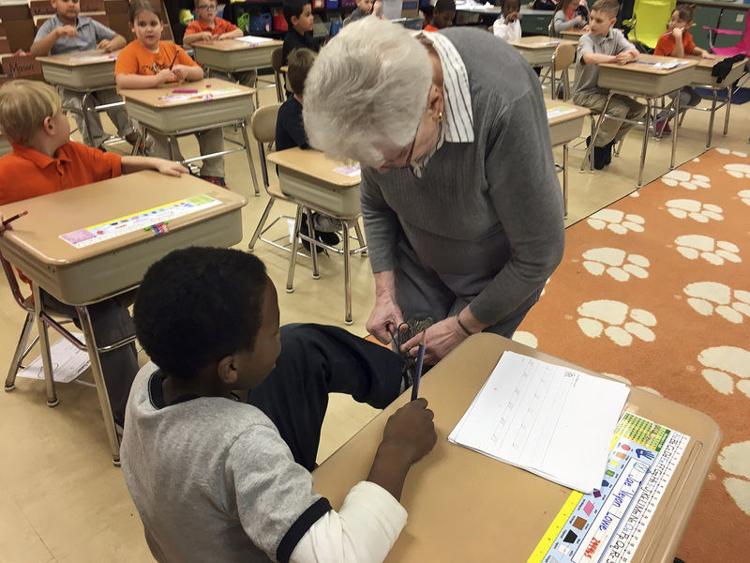 Feeding the masses
Dona Sherman volunteers time at Hermitage School District in a different way. For a time the 1983 Hickory High School graduate worked in daycare and at times was a stay-at-home mom. As the mother of three watched her children grow, she decided it was time to give back to the school system.
Her contribution to high school activities over the past seven years: meals. When the high school musical is undergoing intensive dress rehearsals, Sherman brings in hot meals to nourish the body and soothe frayed nerves for cast and crews.
"These are pretty long days, and it makes it easier for parents and the kids,'' she said of her work.
Her cooking talents are home-grown.
"I didn't go to culinary school, that's for sure,'' Sherman said with a laugh. "I'm not a chef. I cook – that's all. If somebody likes my food and asks me for some, I'll do it to help them out.''
She doesn't stop there. Sherman cooks at the school's concession stands to support Hickory's band boosters during football season.
Her cuisine includes local favorites: sausage, meatball and pulled pork sandwiches, gyros, chicken wraps, stuffed cabbage and soups.
"In the winter, everyone likes to have chicken soup, so I make a lot of it,'' she said.
This is part of a family tradition. Sherman's mother also worked at the school's concession stands.
"My mother did it years ago,'' Sherman said. "It's in my blood.''
In the fall she also cooks for the school's craft show as a fundraiser. All of this takes an enormous amount of time. Her employer allows her to take time off on days she needs to cook.
"I couldn't do any of the things I do without my husband Bill. I really love doing this,'' Sherman said of her volunteering.
Spare clothing, candy bars and helping Santa
At West Middlesex Area School District, Janet Redfoot volunteers her time for elementary students. As president of the school's PTO, she helps students experience the world outside of the classroom.
Redfoot oversees another project called The Green Room, a small space at the school that houses a variety of clothing and outerwear for students of low-income families. Most of the clothing is donated.
Through fundraisers, such as selling candy bars from Daffin's Candies and Philadelphia Candies, she is able to help give students warm memories of school. One event is Santa's Workshop.
This is where she buys goods and turns a room at the school into a mini retail store. Items for sale over the years have included putty knives for dads, body sprays and toys. It allows students to buy items for their family members for $1. Redfoot already has bought items for next year.
"I pretty much buy as most as I can on the day after Christmas,'' she said of looking for steep discounts on goods. "I would say 90 percent of the stuff I buy was originally for sale at well above a dollar.''
It gives students from lower-income families pride when they can buy a gift for someone, Redfoot said.
"They get to shop, and they get to do it on their own,'' she said.
Redfoot also coordinates West Middlesex's Boxtops4Education program, where families can collect the box-top coupons from consumer items including breakfast cereals and boxed dinners and redeem them for cash donations from the manufacturer.
Funds are used to pay for field trips, recorders and one year a playground for the school.
"I love this school district. It's one of the best around,'' she said. "And I love doing this. It allows me to watch the kids grow up.''


[ad_2]

Source link