غير مصنف
State education board hears about new culture of local schools | News
Tillamook schools gave the Oregon State Board of Education a glimpse of local success during a traveling meeting of the agency. The Board met at the Tillamook School District Office on Thursday, Jan. 17.
The state education board plans a board meeting every year in a community outside of its Salem headquarters. They choose a school district that has demonstrated progressive, innovative and effective work. Tillamook was selected because of the district-wide work around trauma-informed care, growing community partnerships and natural resource programs that are recognized across the state.
The meeting began with a video presentation on how Tillamook schools have partnered with local business, government and industry to expand learning beyond the classroom while giving back to the community. For example, students frequently visit the wetlands near the Tillamook Creamery to collect scientific data, which they share with the Tillamook County Creamery Association.
"We have associations with private industries, state agencies, federal agencies, nonprofits … they benefit from the information, research and analysis we provide," Tillamook School District Superintendent Randy Schild said. "Our students benefit by getting authentic opportunities to learn and interact with our natural resource professionals here in the community."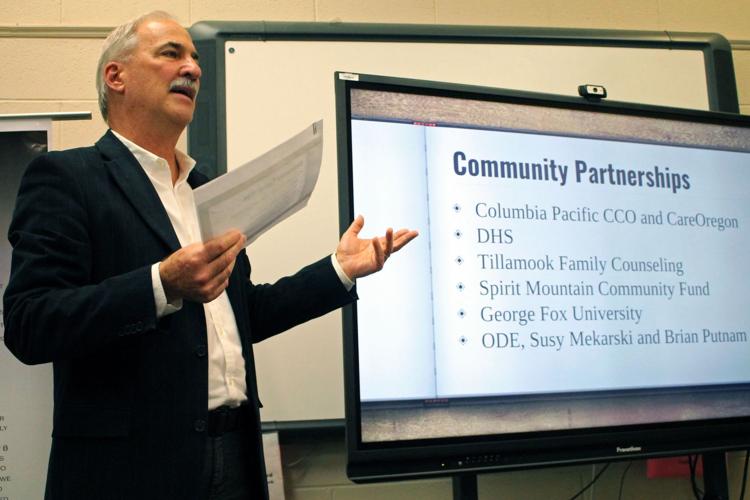 When the opportunity for public comment arose, a Brookings, Oregon advocate for preventing bullying and suicide stepped forward. Gordon Clay told the state education board that many students aren't safe from abuse within school districts because they lack protected class status.
Clay urged a policy revision at the state level to establish more equity and legal protection for victims of bullying. Clay also called for annual reports on payouts to settle or defend complaints.
Later in the day, the state education board heard a series of presentations about trauma-informed care and how it has been implemented in the Tillamook School District. The practice has grown across the state, but Tillamook has taken a leading role in utilizing information about how difficulties in life translate into difficulties in learning.
Trauma-informed care has its roots in studies of Adverse Childhood Experiences (ACEs), exposures to such events as abuse, neglect, criminality, mental illness, substance abuse, etc. that are associated with increased risk for trauma or toxic stress, particularly when they are cumulative.
Extreme stress might lead to various physiological dysfunctions, disease and death. During a conversation with another superintendent, Schild first learned of ACEs, which are thought to be a leading determiner of future outcomes.
At the time, Schild was told the field of study was more important than third grade reading scores (a crucial education growth milestone). That got his attention. He committed Tillamook's administrators to joining six other school districts in learning from ACEs what would become known as trauma-informed care.
"If kids had just three ACEs, then they were three times more apt to be academic failures. Five times more attendance problems, six times more behavior problems in schools," Schild said. "Six ACEs or more, and you're 460 times more likely to be an [intravenous] drug user, and your life expectancy is 19 years less, so it becomes a life-and-death situation."
Having watched the school district for 50 years, from student to superintendent, Schild recalled attending alongside a student who faced a number of struggles in school only to return one day as a grandfather of a student facing expulsion. The generational cycle came into focus for Schild and illustrated the impact of adversity on children.
A first-grade teacher, Heather Gerlt followed Schild, giving examples of how the trauma-informed care program has improved the lives of her students. One key practice is getting to the root of behavioral outbursts, likely brought on by some external influence such as being tired, hungry or hurt.
Changing from a discipline-based model to a focus on wraparound care and problem solving changes the whole feeling around a school, Gerlt said. Making a student feel safe about communicating their problems could prevent a behavioral incident before it happens.
At Tillamook Junior High School, the recently introduced Discovery Program is developing into an important tool for assessing what skills students need for social development, including active listening and communication, but also anger management and conflict resolution. A student might not outwardly appear to be struggling, so opening a trusted channel of communication between adults and students provides a better chance of overcoming obstacles.
The Discovery Program grew out of a change in culture at the alternative school, Wilson River. An innovative gamble launched by a previous Wilson River principal, it was realized that without the proper life skills, education is a challenge. That led to creating a six-week course in social and emotional skill building. With dramatic credit deficits for some students, that line of thinking seemed counterintuitive.
However, the experiment was a success. By year's end, the students made more progress with academic credits than expected because they had the life skills to be better students. There has also been a significant drop in behavioral management referrals.
Wilson River has been at the front line of connecting with students, using student interviews to inform a family atmosphere, nurturing education and social growth. Success in the freshman year being a telltale sign of high school outcomes, the school has a focused approach to the transition from junior high school to high school.
"Research shows the way to overcome [ACEs] is meaningful relationships with adults," Schild said. "It's a different approach to caring for kids than we used to have in schools."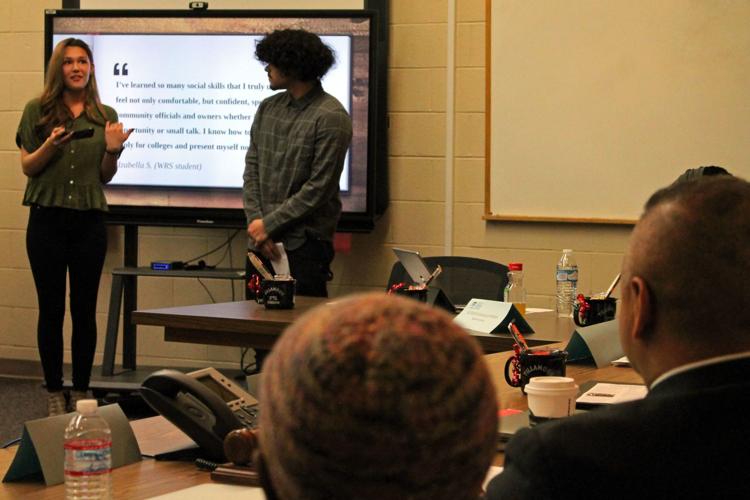 Two Wilson River students gave personal examples of how the school has changed their lives for the better. The Discovery Program opened the door for them to engage in other opportunities through the school.
Cristian Garcia told the state education board that he failed his freshman and sophomore years of high school, finding his true potential at Wilson River. Garcia said the smaller classes and participating in the Oregon Youth Conservation Corp program helped him push through social anxiety and get out of his comfort zone.
Dakota Bones said she had a new perspective after attending Wilson River. She, too, credited the smaller classes and the additional opportunities for getting her reinvested in her education. Bones has moved college from the back of her mind to reality, enrolling in Writing 121 as her first step towards higher education.
The partnerships between the school district and numerous agencies, businesses and institutions played a big role developing trauma-informed care in Tillamook. Schild said getting students out into the world such as in the natural resource program was a great way for them to learn, particularly for those with trauma in their lives.
Bruce Rhodes, a member of the school district leadership team and Tillamook Education Foundation director, highlighted the connectivity between the schools and the community organizations.
Columbia Pacific CCO awarded grant funding for a family resource coordinator, a CareOregon grant supports some of the Discovery training. The Department of Human Services and Tillamook Family Counseling are involved directly, George Fox University works closely with the schools, and the Oregon Department of Education has also helped.
"Trauma-informed care is not a curriculum … it's setting a culture," Schild said. "It's changing the adults and how we think, it's working with kids, it's building relationships … it's who we are now."