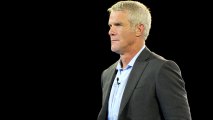 NFL Hall of Famer Brett Favre is apologizing after saying he was duped into making an anti-Semitic video by a hate group posing as a veteran's organization.
Photo Credit: Diamond Images/Getty Images
This story uses functionality that may not work in our app. Click here to open the story in your web browser.